Alliance Francaise de I'llawarra Film Festival 2019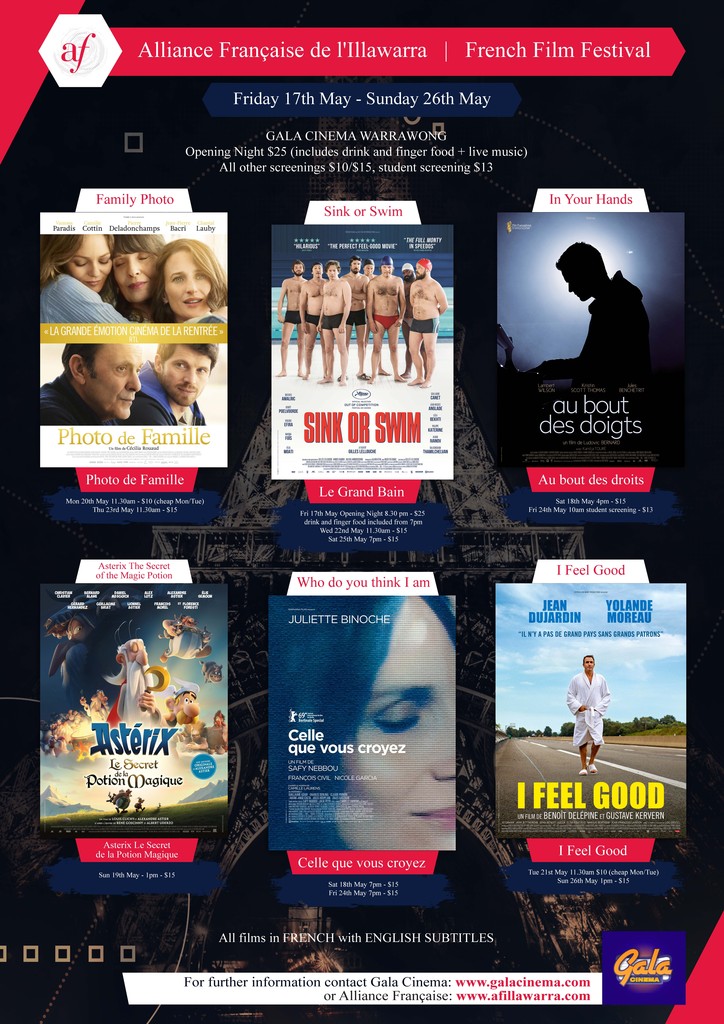 Starring:

Guillaume Canet, Mathieu Amalric, Virginie Efira, Leïla Bekhti, Marina Foïs

40-year-old Bertrand has been suffering from depression for the last two years and is barely able to keep his head above water. Despite the medication he gulps down all day, every day, and his wife's encouragement, he is unable to find any meaning in his life. Curiously, he will end up finding this sense of purpose at the swimming pool, by joining an all-male synchronised swimming team.

Click time to order tickets

Starring:

Kristin Scott Thomas, Lambert Wilson, Karidja Touré, Jules Benchetrit, André Marcon

A young man from a modest family gets the chance of a lifetime to reveal his hidden talent for piano but can he find the strength and courage to live up to the challenge?

Starring:

Jean Dujardin, Yolande Moreau, Jean-Benoît Ugeux, Joseph Dahan, Lou Castel

He's lived for too long off his parents. It's time for 40-year-old slacker Jacques to get by on his own. One-time gigolo and a borderline bum, he knows what he wants – to become rich and famous. He even has a business plan: tourism combined with cheap plastic surgery. Jacques moves in with his older sister, Monique, who manages an Emmaus village in the south west of France. And before long, the smooth-talking chancer has convinced a group of workers to pool their meagre funds and set out on a trip to a clinic in Bulgaria, where all their dreams of a brighter and more beautiful future will all come true. If only…

Click time to order tickets

Starring:

Juliette Binoche, Claude Perron, Charles Berling, Jules Houplain, François Civil

Claire, a 50-year-old divorced teacher, creates a fake Facebook profile of a 24-year-old woman. She finds a photo of a pretty young brunette and uses it. She has created an entirely fictional character, but why?